---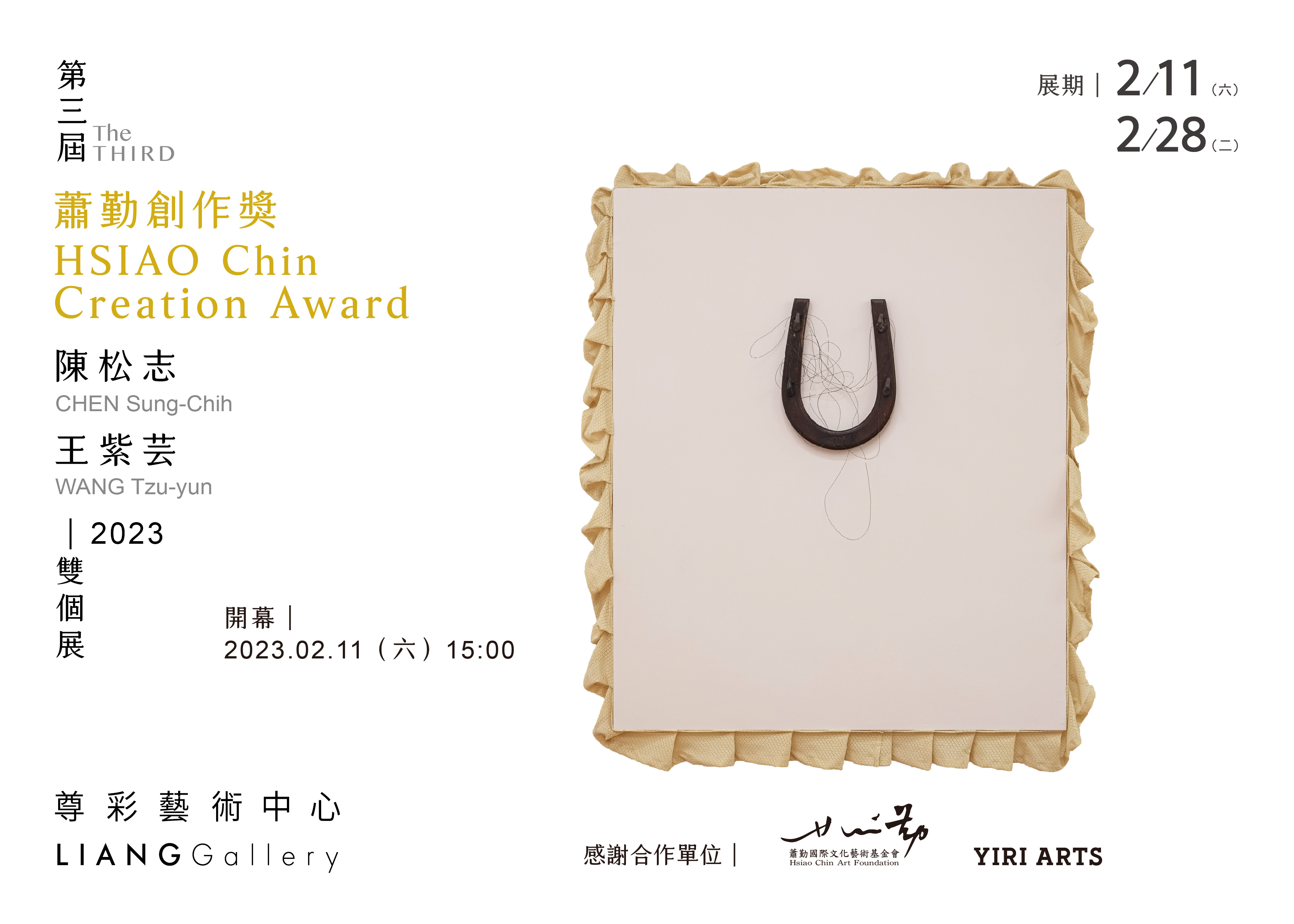 Liang Gallery is pleased to announce that it will be collaborating with the Hsiao Chin Art Foundation to exhibit the works of the 3rd "Hsiao Chin Creation Award" winners, CHEN Sung- Chih and WANG Tzu-Yun, from February, 11th, 2023, to February, 28th, 2023. The ethos of the biennial "Hsiao Chin Creation Award" is to support ethnic Chinese artists, especially those with a unique individual style and contemporary spirituality, and to encourage them to bring more possibilities to the practice of contemporary art. The works of the two artists in this exhibition reflect the concept of temporality, with slight dramatic traces that render time no longer linear and space no longer homogeneous, creating different dimensions. We sincerely welcome you to join the wonderful event.
CHEN Sung-Chih was born in 1978 in Nantou, Taiwan. He graduated with a master's degree from the Graduate Institute of Plastic Arts at Tainan National University of the Arts. Chen is specialized in mixed-media installations. He was awarded the First Prize for Espace Louis Vuitton Taipei Audition in 2013, the 12th Visual Arts Prize of Li Chun-Shen Foundation, the 3rd Top 7 of Visual Arts in Taishin Arts Awards, the Merit Award for in Taipei Arts Award in 2003 and the S-An Cultural Foundation Creative Arts Award in 2001. His works are collected by various institutions, such as the National Taiwan Museum of Fine Arts, Art Bank Taiwan, Juming Museum, and Yeh Rong Jai Culture & Art Foundation. Chen's presentation of the often-overlooked fragments of life is expressed through the vocabulary of minimal materials. Under Chen's arrangement of seemly familiar ready-made objects, space becomes poetic through its visually rendered separation from reality.
WANG Tzu-Yun, born in 1966 in Yuanlin, Changhua, graduated from the École Nationale Supérieure des Beaux-Arts de Paris. WANG Tzu-Yun has held and participated in numerous individual and group exhibitions and joined the ISCP residency program in New York. In recent years, she has focused on the combination of paintings and installations. Wang's unique narrative undermines the material quality of pigments such as toner and colour dust. Her depiction of figures and scenes demonstrates the coverage and washing of time, which allows spectators to form a dialogue with the works and perceive the constant flow of temporal change.
Exhibition Duration|2023.02.11(Sat.)-2023.02.28(Tue.)
Opening|2023.02.11(Sat.)3:00 pm
Venue|Liang Gallery, 1st Floor (No.366, Ruiguang Rd., Neihu District, Taipei, Taiwan)
Opening Time|(Tue.-Sun.) 11:00am-6:00pm (closed on Mondays)
Co-organizer |Hsiao Chin Art Foundation